May 8, 2012 (Phoenix, Arizona) — The use of intraoperative radiofrequency ablation to create a disease-free zone after the excision of a breast cancer tumor can significantly reduce the need for repeat surgeries and adjuvant radiation, according to the results of a study presented here at the American Society of Breast Surgeons 13th Annual Meeting.
Despite advances in tumor localization technology, the ability to identify a specific size or grade of invasive cancer that can be reliably addressed with lumpectomy alone is still an inexact science; patients often require reexcision of positive margins or adjuvant radiation, which increase cost and morbidity.
"Even with our best efforts, 20% to 40% of patients require reincision for closed or positive margins," said lead author Misti Wilson, MD, a surgical oncologist at the University of Arkansas in Little Rock.
Although radiation can significantly reduce recurrence after lumpectomy, it is associated with significant adverse effects, including breast fibrosis and decreased cosmesis, and can be inconvenient and even impossible for rural or poor patients to obtain, she explained.
The use of radiofrequency ablation following excision (eRFA) allows surgeons to create an extra tumor-free zone extending beyond the lumpectomy cavity, which approximates the zone treated by brachytherapy.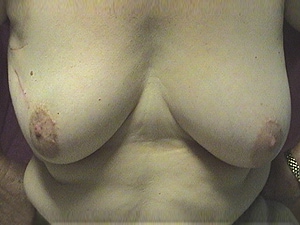 eRFA-treated breast
Dr. Wilson and her colleagues evaluated 73 patients with invasive cancer and an average tumor size of 1.1 cm (range, 0.2 to 2.5 cm) who were treated with eRFA.
The mean age of the patients was 69 years, and all started out with tumors 3 cm or less and clinically negative nodes.
The radiofrequency procedure involves deploying the probe, maintained at 100 °C, for 15 minutes to circumferentially extend the lumpectomy cavity margin by 1 cm. Doppler sonography was used to determine the final ablation size.
Follow-up, involving a mammogram and physician exam, was done every 6 months in the first 2 years, and yearly thereafter.
Of the 73 patients, 68 had invasive ductal carcinoma and 5 had invasive lobular carcinoma; 93% of patients had grade 1 to 2 disease.
None of the patients received radiation therapy; for cosmesis, their Radiation Therapy Oncology Group (RTOG) score was reported as good to excellent. The only patients requiring reresection were those with grossly positive margins or residual calcifications on postoperative mammography.
Nineteen of the patients had adequate margins, defined as 2 mm or less. Of those, 16 (84%) had close or positive margins and were spared reexcision.
"In general, only 3 patients of 73 returned to the operating room for reexcision after eRFA," Dr. Wilson said.
Postoperatively, there were 2 hematomas that resolved on their own and 4 infections requiring antibiotics, incision, and drainage, she noted.
In the 55-month follow-up period, disease-free survival at 1 year was 100%, at 3 years was 92%, and at 5 years was 86%. There were 8 deaths overall, but none were related to the primary disease.
"The findings indicate that eRFA reduces the need for second surgeries for inadequate margins," Dr. Wilson concluded.
"Long-term follow-up suggests that in patients with breast cancer or who can't or won't have radiation, eRFA can reduce local recurrence without the need of radiation therapy, and these patients reported good to excellent cosmesis."
This study is important in demonstrating the potential of eRFA to benefit breast cancer patients and allow for potential breast conservation, said Peter Beitsch, MD, a surgical oncologist at the Dallas Surgical Group in Texas.
"This small study, with relatively short follow-up, is very innovative and [demonstrates that eRFA allows] complete local treatment in one setting," said Dr. Beitsch.
"Not only is it extremely convenient for patients, eRFA may allow more women the opportunity of breast preservation when the logistics of travel to and from the radiation center makes mastectomy their only option."
"I look forward to the larger study and continued follow-up of this cohort to ensure the persistence of local control," he said.
Dr. Wilson's team has opened a multicenter trial — ABLATE (Adjunctive Breast Lumpectomy With RF Ablation Treatment to Reduce Re-Excision & Recurrence) — and recruiting is underway at 5 centers.
The study was funded by research grant from AngioDynamics and the Fashion Footwear Association of NY and QVC.
American Society of Breast Surgeons (ASBS) 13th Annual Meeting: Abstract 0136. Presented May 4, 2012.